Get Started
We offer a variety of webinar types to suit your needs in English & German
On Demand
Webinars when you want them. Our On Demand Webinars can be viewed any day, any time and from anywhere and are available in both Deep Dive and Frontier.
Deep Dive
We answer the "what is" and "how to's" of integrations. These webinars are based for techies with a hands-on approach featuring tutorials, walk throughs and technical advice for service and application integrations.
Frontier
Our "why" and "where to" webinars created for business people and decision makers discuss the now and future of integrations, digitalization and the connected world of service management.
frontier FOR MSP's
Managed Services Strategy Series
Available to watch without sign up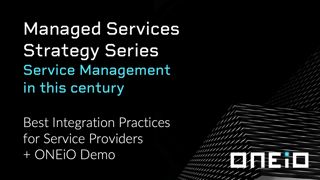 Best Integration Practices for Service Providers + ONEiO Demo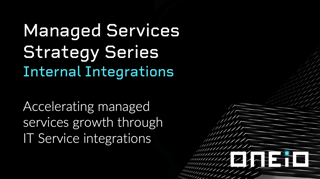 Accelerating managed services growth through IT Service integrations


It's time to leave the copy & paste method in the past


Simplify customer integration processes to be more effective


Enhance collaboration with the standardization of your endpoint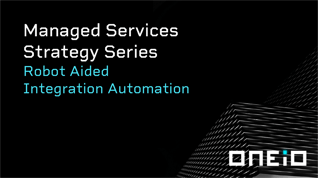 Free yourself, hire a robot

ON DEMAND
In this webinar, we give an exclusive look at a Microsoft Teams integration and how it can help you elevate cross-functional collaboration between your teams.
Approximately 45 minutes

Learn how to create technical connection between ServiceNow and ONEiO
Learn how to create technical connection between Atlassian JIRA and ONEiO
Create Bi-directional Incident Exchange between ServiceNow and JIRA including Attachments & Status change.
Approximately 45 minutes
In this on demand webinar, ONEiO North American Commercial Director, Heikki Rautalahti discusses the Best Integration Practices Service Providers can take to create a more complete MSP offering.
Main Topics Include:
A discussion of the challenges globally recognized MSP specialists are facing and how they are overcoming them
How Service Providers are simplify and driving automation through automated integrations
How they are commercializing integrations to their end customers
A 4 step Road to Success to from starting internal processes to automating integrations
Approximately 20 minutes
In diesem On-Demand-Webinar gibt DACH's Technical Lead Sven Schindler Einblick in den Markt der MSPs, dessen Ansprüche und was sich in den letzten Jahren verändert hat.

Die Hauptthemen des Webinars umfassen:
Die veränderten Ansprüche an MSPs durch die Veränderungen auf dem Markt

Die Schattenseiten der klassischen Herangehensweise an Integrationsprojekte

Wie sie durch eine moderne Herangehensweise und revolutionäre Technologie wertvolle Zeit einsparen und Ihre Kunden schneller und effizienter anbinden können.




Zum Abschluss wird demonstriert wie mit ONEiO innerhalb weniger Minuten das Kundensystem an das backend system angebunden wird.
Zeitraum des Webinars umfasst etwa 20 Minuten.
In this webinar, Juha Berghäll, CEO of ONEiO, participates in discussions surrounding the findings of the Integration 2020 survey results. Integration 2020 asked participants a variety of questions to determine the challenges, costs and frustrations felt by businesses when managing their software integration solutions.